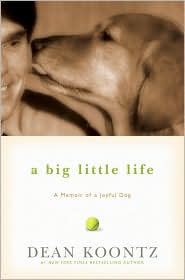 Well, another one of my heroes has come through big time and proven that he is a sterling human being, as well as an awesome writer. Dean Koontz has been one of my...well..."friends" is probably too strong a word. I've known him for about fifteen years now, and have had semi-regular communications with him since we met through (again) my dad (who is kind of a human Who's Who of Cool Writers). I've called him a few times on the phone, and he's always literally dropped what he was doing to talk to me, and each time I've written him a letter I've not only gotten a letter back, but usually one that was much nicer and more eloquent than the one I sent. Darn him for being so talented and classy. Makes the rest of us look bad.

But seriously, I've known the guy for quite a while, and while I wouldn't go so far as to describe us as bosom buddies (and really, to be honest, I wouldn't describe ANYONE as my bosom buddy - I'm just not that mean), I would definitely say that a) he's always been incredibly friendly and courteous with my little intrusions into his very busy life, and b) he's always been a classy, helpful guy in every way. So I'm going to change my mind and go ahead and call him a friend because, even if he couldn't pick me out of a lineup (who would want to?), he acts like a friend. And in the immortal words of Shakespeare, a friend is a friend, no matter how rich and famous they are and you aren't (I'm paraphrasing - he actually said something about roses, which, let's be honest, is less germane than what I just said).

At any rate, I sent him a letter a while back to brag about the fact that one of my books was on a bestseller list with one of his books, and true to form not only did he reply, but his reply was way nicer than my letter. He actually sent me a Christmas gift! He sent me a copy of his book A Big Little Life, signed, first edition. Wow. What a cool Christmas present for a self-affirmed nerd and bibliophile like me. So thanks, Dean. May YOUR Christmas have been a merry one, and may your new year be everything you deserve and more. Because, well, you're a cool guy and I want to be like you someday when I grow up.
Do you have something to say about this post?